November 21st, 2023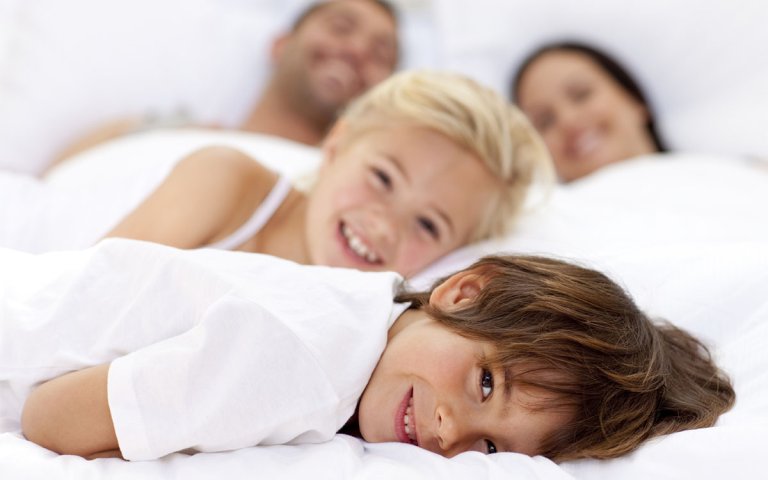 Mattress firmness should always consider size, weight and sleeping position...
Natural latex mattresses offer a unique advantage for the consumer, as their latex layers can be easily adjusted for individual size, weight and sleeping position.
A made to order latex mattress supports and conforms on an individual basis, which will take your sleeping experience to a new level of satisfaction.
Couples can benefit from from the ability to choose a different firmness on each side of the mattress they share.
Compromise is a wonderful asset for a couple, however it should not be applied to your sleeping comfort.
Natural Latex Mattress Benefits
A premium natural latex mattress, which is made to order, offers a benefit which cannot be duplicated in mass produced traditional mattresses, firmness can be adjusted for individual size, weight and sleeping position.
Ready for a new mattress? The question you should ask yourself is, "how long does my mattress maintain the same firmness or feel?" Traditional mattresses add comfort to the mattress by adding foam comfort layers, which often break down quickly and form body impressions.
Natural latex is the most durable of all foams, and is generally 2-4 times more durable than the polyurethane foam used for "pillow-tops" in traditional mattresses.
The goal of any mattress should be to align your spine...
Most of us sleep on our sides, and when a latex mattress is properly configured, there should be the right amount contouring and conforming at the shoulders and hips to perfectly align your spine.
For back sleepers, you will need firmer support, and the top layers should  offer enough conforming support that the curve of the lower back has conforming support.
If someone is 30 or more pounds heavier and was photographed on this same mattress sleeping on their side, you would see a lack of support, their hips would sink too deeply, leading to a spine that is not aligned, eventually creating lower back pain.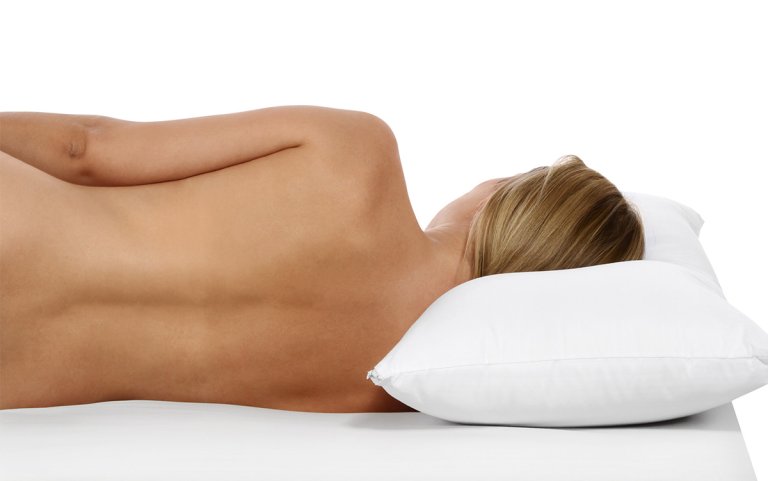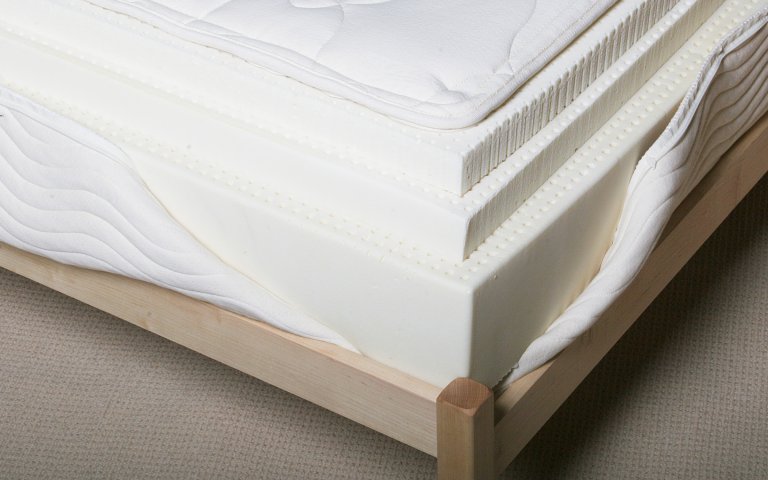 The magic in a latex mattress is in the layers...
Take a close look at the mattress on the left. Notice that there are three separate layers in this natural latex mattress.
The bottom 6" layer is the core of the mattress, which is designed to give the necessary support for each individual.
The two 2" layers above the core are topper comfort layers, which are designed both to offer additional support and to provide a softer conforming layer. 
These top comfort layers will align your spine, while relieving pressure points at your shoulders and hips.